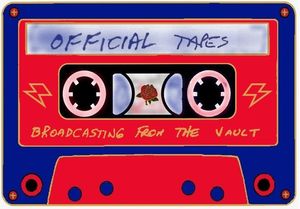 Beyond Description. . . 
We get into Dave's Picks Volume 41! Dave's Picks is the act's continuing live archival release series, named for the group's archivist, David Lemieux, that has been going strong since its first release in 2012. 
The archival release - a three-CD live album consisting of 23 tracks and clocking in at over 3 hours long - is a Baltimore show from May of 1977. 
Off The Wall / Off The Charts. . . 
- Debuts at No. 2 on Top Album Sales, tying for the act's highest-rank on the 31-year-old chart. 
- The band hit No. 2 five times previously, all with Dave's Picks efforts. The Grateful Dead has now placed 101 different collections onto the Top Album Sales chart, with the vast majority of them being live efforts. 
On the Billboard 200 chart, Dave's Picks, Vol. 41 debuts at No. 13 – tying for the Grateful Dead's highest debut ever (matching the No. 13 debut and peak of Dave's Picks, Vol. 40 last year). The band last went higher on the Billboard 200 with 1987's In the Dark, when it peaked at No. 6 (Aug. 22, 1987-dated chart). 
It earns the band its 110th career entry on the Billboard 200, extending its record for the most among groups. 
Dave's Picks, Vol. 41 also marks Grateful Dead's 51st top 40-charting album on the Billboard 200. The band continues to have the most top 40 albums among groups since the chart began regularly publishing on a weekly basis in 1956. The acts with the most top 40 albums on the Billboard 200 are: Frank Sinatra (58), Elvis Presley (57), Barbra Streisand (54), Bob Dylan and Grateful Dead (51 each). (Thirty-three of Grateful Dead's 51 top 40-charting albums are from the Dave's Picks series.) 
The Set List. . . 
Help On The Way >      4:39 
Slipknot! >                  4:16 
Franklin's Tower            9:34 
1990-07/18 DEER CREEK MUSIC CENTER, Noblesville, Indiana 
Dave's Picks Vol. 40 
Mississippi Half-Step       7:44 
1973-03/26 BALTIMORE CIVIC CENTER, Baltimore, Maryland 
30 Days of Dead 2011 
Sugaree                       15:37 
1977-05/26 BALTIMORE CIVIC CENTER, Baltimore, Maryland 
Dave's Picks Vol. 41 
Ramble On Rose            8:05 
1971-12/09 FOX THEATRE, St. Louis, Missouri 
Listen To The River: St. Louis '71 '72 '73